Engineer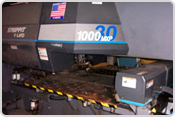 Fabricate
Form
Finish
We're more than simply a sheet metal fabricator.
WE'RE YOUR BUSINESS PARTNER PROBLEM-SOLVER.
Your challenge:
Just about any metal fabricator can sell you a custom steel metal fabrication. But when it comes to supporting you in your quest to remain competitive in the global marketplace, it takes an innovative contract manufacturer who thinks out of the box.
American Quality Manufacturing, Inc. has been in the manufacturing business since 1991. We are well aware that today's economy is forcing small businesses to rethink the way they run their companies, particularly with mounting pressure from the Internet. More than ever, you need a partner to help take the load off your growing business by removing some of the cost load for labor, management, engineering, equipment, and tooling for your small factories.
Our Solution:
American Quality Manufacturing, Inc. is here to help you scale down your business -- without missing a beat -- through outsourcing the complete or partial manufacturing of your products.

Since we market and manufacture our own commercial products, you can depend on us to be a seamless extension of your company. Our hands-on owners know precisely what it takes to turn a hand-sketched concept into a profitable reality.

We offer every manufacturing capability from metals to plastics under one roof. So you can depend on us to be your single resource for an entire realm of in-house services, including: powder coating, plastic vacuum forming, plastic injection molding, CNC machining, Mig & Tig welding, electrical wiring, product labeling, and shipping and packaging services.

Whether you are striving to build your first prototype, seeking a business team player to manufacture your new invention, or simply looking for a sheet metal job shop that can punch a few metal parts economically, you can count on American Quality Manufacturing. No job is too large or too small. Call today and see how a true manufacturing partner can produce your parts far more affordably and significantly lower your manufacturing costs.

Industries Served- Medical Devices- Lighting Products- Aquatic-Electronics-Food-Military-Air Purification-Hospital-Consumer Products, CNC Forming, Component Fabrication, Electromechanical Assembly, Powder Coating, Precision Machining, Sheet Metal Fabricating, Bracketry, Metal Enclosures, Sub-Assemblies,
Market
Wire & Assembly
We sell our sheet metal services to all of the following US states and foreign countries: Alabama | Alaska | Arizona | Arkansas | California | Canada | Colorado | Connecticut | Delaware | Florida | Georgia | Hawaii | Idaho | Illinois | Indiana | Iowa | Kansas | Kentucky | Louisiana | Maine | Maryland | Massachusetts | Mexico | Michigan | Minnesota | Mississippi | Missouri | Montana | Nebraska | Nevada | New Hampshire | New Jersey | New Mexico | New York | North Carolina | North Dakota | Ohio | Oklahoma | Oregon | Pennsylvania | Rhode Island | South Carolina | South Dakota | Tennessee | Texas | Utah | Vermont | Virginia | Washington | West Virginia | Wisconsin | & Wyoming.