Engineer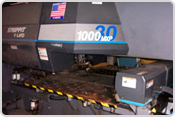 Fabricate
Form
Finish
We're more than simply a sheet metal fabricator.
WE'RE YOUR BUSINESS PARTNER PROBLEM-SOLVER.
Prototypes- Design- Engineering- Manufacturing- 3D Models:
If you are an inventor or designer who has invested in a virtual prototype and has proven your patent does work, you are ready to take the next logical step – finding the right prototype designer/manufacturer to work with you and bring your prototype to life.
American Quality Manufacturing will turn your vision into a reality:
Why Use AQM?
AQM builds and markets its own products.  We give every prototype the same time and attention we give to our own designs.
AQM has full in-house capability from concept to final product.  We don't sub-contract or broker
Nobody can touch AQM prices for design, engineering and manufacturing of working prototypes
We may be interested in licensing your patent.
Are you interested in turning your dream invention into a reality?
Please download our Non-Disclosure Agreement, and fax it to 321-636-3445. One of our corporate officers will personally sign your agreement and contact you to discuss your needs.
Confidentiality Guaranteed!
Confidential Disclosure Agreements (CDA)
Market
Wire & Assembly
We sell our sheet metal services to all of the following US states and foreign countries: Alabama | Alaska | Arizona | Arkansas | California | Canada | Colorado | Connecticut | Delaware | Florida | Georgia | Hawaii | Idaho | Illinois | Indiana | Iowa | Kansas | Kentucky | Louisiana | Maine | Maryland | Massachusetts | Mexico | Michigan | Minnesota | Mississippi | Missouri | Montana | Nebraska | Nevada | New Hampshire | New Jersey | New Mexico | New York | North Carolina | North Dakota | Ohio | Oklahoma | Oregon | Pennsylvania | Rhode Island | South Carolina | South Dakota | Tennessee | Texas | Utah | Vermont | Virginia | Washington | West Virginia | Wisconsin | & Wyoming.