Engineer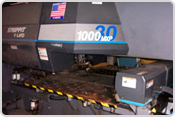 Fabricate
Form
Finish
We're more than simply a sheet metal fabricator.
WE'RE YOUR BUSINESS PARTNER PROBLEM-SOLVER.
Sheet Metal Fabrication:
The Strippitt 1000 MXP 30, 30 Ton, 100'" x 40" Sheet size, 250 Gauge, 42 Station with 4 auto index stations with Multi tool capabilities is utilized to provide our customers with high volume, quality parts at a low cost.
• 30 tons of punching force.
• Capable of process 40" x 100" sheets with a single repositioning cycle.
• Provides a maximum 300 hits per minute, with 200 hits on one-inch centers.
Or ask about our (2) Strippitt FC1000 – Ideal for high speed/high volume production runs!
The 42-station triple-track turret with four 3.5" auto-index multi-tool stations is the perfect solution to your high volume/high speed manufacturing needs:
• Reduces tool changing/processing time.
• Lowers tooling costs.
• Provides finished part quality and maximizes machine flexibility.
We can nest individual or multiple parts on a single sheet, allowing us to reduce set up time and pass the savings on to our customers.
CNC Forming:
We provide our customers with precision formed parts utilizing our Amada CNC Brake Press with European style tooling.  The Amada enables us to store customer's jobs, including tooling required and bend sequence, on either the system's hard drive or straight to disk, enabling us to quickly set up and run jobs.  We can combine this quick set-up capability with the CNC's quick change tooling for significant savings that we pass along to our customers.
Specifications:
• 8 Axis
• 125 Ton Capacity
• 144" Max Bend Length
• Auto bed deflection
compensation system
• European style precision ground tooling
If you need quality precision formed parts with repeatability, let AQM, Inc. satisfy your metal forming requirements.
Market
Wire & Assembly
We sell our sheet metal services to all of the following US states and foreign countries: Alabama | Alaska | Arizona | Arkansas | California | Canada | Colorado | Connecticut | Delaware | Florida | Georgia | Hawaii | Idaho | Illinois | Indiana | Iowa | Kansas | Kentucky | Louisiana | Maine | Maryland | Massachusetts | Mexico | Michigan | Minnesota | Mississippi | Missouri | Montana | Nebraska | Nevada | New Hampshire | New Jersey | New Mexico | New York | North Carolina | North Dakota | Ohio | Oklahoma | Oregon | Pennsylvania | Rhode Island | South Carolina | South Dakota | Tennessee | Texas | Utah | Vermont | Virginia | Washington | West Virginia | Wisconsin | & Wyoming.